CREP (Coast Renewable Energy Project)
The power supply was hardly reached in coastal areas through the national power grid. COAST introduced a project title "Coastal Renewable Energy Project (CREP)" since 2002 in central south and south east coast of Bangladesh. The project is supported by Infrastructure Development Company Limited (IDCOL) and it is continuing through a refinance model where IDCOL is refinancing 4 Euro as grant and 80% of loan support per system on the basis of disbursement amount to customers. Total no. of 5227 solar home system (SHS) has been installed in 5227 households. This project is becoming a popular program among the poor and mid level families considering the low cost and climate friendly pollution free environment in remote chars and islands. People are getting clean energy through SHS. SHS is also used for cell phone charging, for watching television. The students are getting extra study time due to the solar light.
Dry Fish: "A Supercilious Woman of Cox's Bazar Kutubdia Para"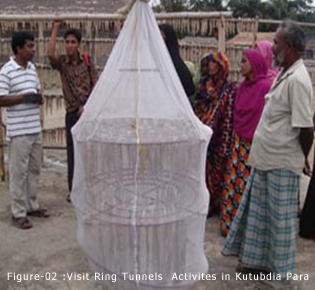 Mrs Mostafa Begum is the inhabitant of Kutubdia Para of Cox's Bazar Sadar Kutubdia Para is a famous area in Cox's Bazar district for climate refugees who came from kutubdia Island of Bangladesh. She is a member of Occupational Groups (OGS) as well as MF Dried Fish "Hasnahena" group. Her husband died a few years ago. When her husband died she was helpless. Mostafa Begum was very poor but skilled to produce dried fish. She was a very determined and hard laborer woman. Her family was not big. She has two school-going daughters. At that time, ProSCAB-RIU Project & COAST Foundation MF included her as a member of "Hasnahena" group. Through ProSCAB-RIU Project trained her and donated ring tunnels to produce dried fish without pesticide & Salt utilizing ring tunnels technology.
At first she took 15,000/= (Fifteen thousand taka) from MF of COAST Foundation and produce dried fish without pesticide & salt. In that season she earned abut 6,000/= (Six thousand taka) and then she took 30,000/= (Thirty thousand taka).In this season she earned about 11,400/= (Eleven thousand four hundred taka) because of high demand of her dried fish. COAST Foundation also bought her dried fish in high rate because her product was not harmful for health. In every lot of a ring tunnel she dried about 5 kg of dried fish within 4 to 5 days. Every month she produced at least 6-7 lots. Per kg of dried she sold 220/= (Two hundred twenty taka).Every year she dried fish in (5-6) months. To see her activity women are interested to utilize this technology. Now Mostafa Begum is very happy and grateful to ProSCAB-RIU & COAST Foundation.