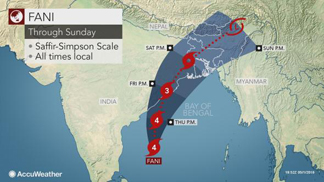 1. Communication established with Government Officials:
We have attended meetings called by honorable Deputy Commissioners of Bhola, Cox's Bazar and Barshal. We ahve also attended meeting with honorable UNO of Ukhiya. We have given all the contact numbers of our responsible staff union level. Just now, ED has arrange a GoToMeeting conference call with all the leaders in field and instructed necessary preparedness.
2. Cyclone tracking:
Through our Radio Meghna (www.radiomeghna.net). We are also updating the weather bulletin through our websites.The bulletin sources will be BMD. From tomorrow afternoon the Radio Meghna will be on air for continuous bulleting until the Fani crosses. .
3. All staff kept in standby:
The station leave and leave of all staff have been cancelled and they are instructed to stay in office and women colleagues in their residence. Our all staff are well trained and skilled for disaster response.
4. Preparedness:
We have made ready two rescue boats one in Kachapia ghat, Charfession, Bhola and one in Kutubdia ghat, Cox's Bazar so that they can start rescue just after order. 6. Responsible staff list in the districts supposed to be affected. We have also made available sufficient cash amount in all field offices and selected the vendors for supplying emergency goods and material.
5. Contact persons in emergency:
i) Bhola-Ms. Rashida Begum, Regional Team Leader, Mobile 01713328802, Jahirul Islam, Sr. Project Coordinator, Mobile-01713328831
ii) Barshal- Md Faruk, Regional Program Coordinator, Mobile-01713328826
iii) Patuakhali-Nazmul Sakib, District Team Leader, Mobile-01713328836
iv) Noakhali, Nure Alam, Regional Program Coordinator, Mobile-01713328808
v) Cox's Bazar, Zahangir Alam Regional Team Leader, Mobile-01713328827, Shahinur Islam, Head-MEAL and Humanitarian Response, Mobile 01713367434
vi) Ukhiya Relief and Operation Centre (UROC), Ukhiya, Razaul Karim Mobile-01814403970
vi) Radio Meghna, Ms. Konika Rani Mobile 01708120390
6. For Dhaka:
i) Mustafa Kamal Akanda, AD-Admin, Mobile-01711455594, Tarik Sayed Harun, Deputy Director-Core Program, Mobile 01713328835 and Sanat K. Bhowmik, Director, Mobile-01711881662 are stand by for monitoring all the preparedness activities continuously with the guidance of Executive Director, mobile-01711529792.
Dhaka Senior Management Team is stand by for going to affected areas at emergency badeasis according to the necessity to provide technical support to the emergency team in field.