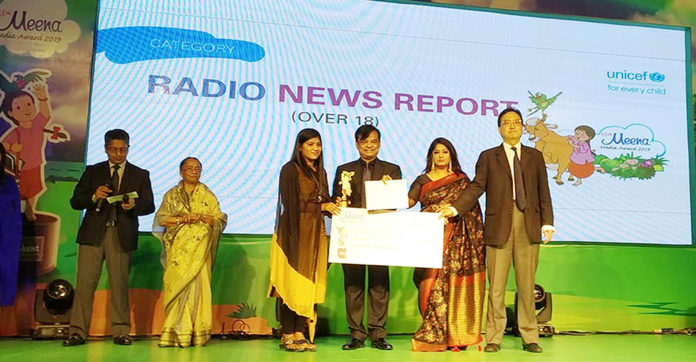 Dhaka, October 26, 2019. COAST Trust's Community Radio Meghna has been honoured with the UNICEF's 15th Meena Media Award. Radio Meghna has won the first prize under the News Report criteria for the report titled 'Women aborting for fear of female childbirth'. The first prize crest, certificates, and cheque of Tk 50 thousand were handed over to Radio Meghna yesterday by UNICEF's goodwill Ambassadors-magician Jewel Aich, Actor Arifa Zaman Moushumi. For the 15th Meena Media Award 2019, 17 programs of 7 community radios including Radio Meghna were nominated for the award in 4 categories. The UN organization UNICEF confers Meena media awards to inspire better and objective reporting on child rights, and other issues relevant to the wellbeing of children across Bangladesh.
It is to be noted that Radio Meghna (the voice of the coast) is a community radio of the COAST Trust, a national NGO working with the Rights-Based Approach. COAST Trust established this Community Radio in Bhola District with its own financing, to utilize the power of information to improve the quality of life of the marginalized people of the coastal areas. On February 18, 2015, Radio Meghna started its official journey. Radio Meghna works to eradicate discrimination in society, tackle the effects of climate change and protect the environment, promote sustainable development of fisheries and agricultural resources, promote social, cultural and rural development, gender equality and education, and raise the voice of poor people to enhance people's capacity.
One of the goals of Radio Meghan is to try to ensure the empowerment of women and adolescents. This community radio run by adolescent girls from disadvantaged families in the Charfashion area. These adolescent girls are overseeing the overall issues of radio management, program making and promotion, technical management, newsgathering, and regular broadcasting. Presently 15 teenagers are working with radio Meghna. Along with their study, they are training on journalism, ensuring family financial security and playing a vital role in the socio-economic development of the society.
It may be mentioned that around 4 lakh people of the 9 unions of Charfashion Upazila can hear Radio Meghna through the FM band. Radio Meghan can also be heard live online from anywhere in the world using its website (www.radiomeghna.net), the archived programs are also available in that website. About 4 lakh listeners are regularly listening to Radio Meghna's program online through the website. Along with Bangladesh and India, Radio Meghna website are regularly visited from USA, Europe and Latin American and African countries. USA has the maximum number of online listeners of Radio Meghna after Bangladesh and India. Press Release [English] [Bangla]
Photos
Newspaper: