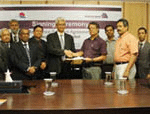 COAST Trust and Meghna Bank Limited have signed a Remittance payment Agreement on 30 March 2015. A homely event at the Meghna Bank Head Office held the agreement and under this agreement 64 branches of COAST Trust will act as remittance distribution channel of Meghna Bank Limited to facilitate inward remittance of expatriates Bangladeshis residing in abroad.
Mr. Rezaul Karim Chowdhury, Executive Director of COAST Trust and Mr. A F Shabbir Ahmad, SEVP and Head of Operations of Meghna Bank Limited signed the Agreement on behalf of their respective Organizations.
Mr. Tarik Sayed Harun, the Assistant Director- Core Program and Mr. Mustofa Kamal Akahnd, Assistant Director- HRM of COAST were present at the event with their counterpart from Meghna Bank Limited namely Mr. Mohammed Nurul Amin, Managing Director and CEO, Mr. Md. Mohashin Miah, AMD, Mr. Arif Quadri, DMD, Mr. Md. Nazrul Hossain, DMD, Mr. Md. Mojibar Rahman Khan, SVP and Head of Corporate Affairs.
They express their hope for the long sustainability of the agreement and to contribute accordingly.