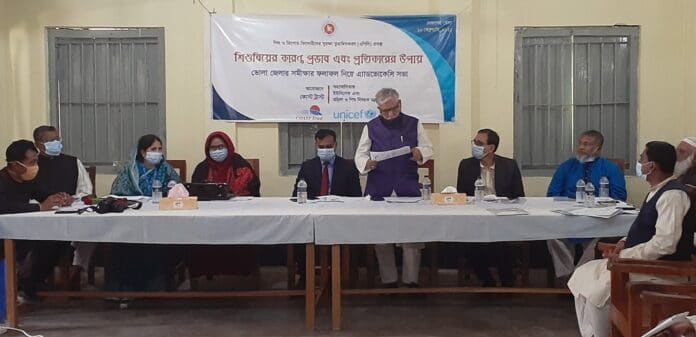 Charfashion Bhola, 10 February 2021: Today an advocacy meeting was organized by COAST Trust at Charfashion Upazilla in Bhola. The title of the meeting was "Child Marriage, it's reason, impact and prevention measures" and support for Unicef and MoWCA. Researcher Iqbal Uddin from COAST Trust presented the key note paper. Findings showed that safety and security were the main reason behind child marriage in Bhola. Md. Joynal Abedin, Upazilla chairman of charfashion chaired the meeting while Aklima Begaum Lily, Upazilla vice-chairman; Md. Mamun Hossan, Upazilla social welfair officer; Ripon Bishwas, assistant commissioner (land) were the special guests. Mizanur Rahman, Project coordinator welcomed the participants and Rashida Begum, Assistant Director of COAST Trust moderated the meeting.
Joynal Abedin said awareness of Kazi-Imam can prevent the child marriage. He urged not to perform marriage registry by representatives of a Kazi. Aklima Begum Lili said, girl victim of child marriage cannot maintain households properly. Therefore, sometimes they become victim of violation. Stopping child marriage, in turn, will reduce the violence against women. Ripon Bishwas said to prevent child marriage, village level courtyard meeting and awareness at schools will help a lot. Ramandra Nath Bishwas said, most cases were filed due to violence against women. Reducing child marriage will reduce number of such cases.
The study covered all the upazillas for data collection. Among the respondents, 57.1% were female and 42.9% were male. COAST Trust conducted the study from 25 October to 31 December, 2020 to know why the child marriage rates are higher in Bhola and its impact in life.
According to the study, 63.6% respondents found love and affairs are the main reason for child marriage. Besides 41.6% cited safety and security the reason, 41% said adolescents can do misconduct and considering the family honor the child marriage happens. Good match said 47.8%. Lack of awareness said 44.9% and poverty is the reason said 50.9%.
Study also found that 37.8% respondents have no idea of age 18 is considered as children and marriage between 15-17 are considered by many as is not a child marriage. Parents, who married off their daughter at early age do not want to admit in public. COVID-19 has impact in child marriage said 21.7%, no impact said 39.5% and don't know said 38.7%.
Child marriage high in the poor family said 76.4% respondents, high in the middle-income family said 29.1% and high in the reach family said 2.3% respondents. Considering the education level, the study found 19.1% got married after completing class-V, 67% got married after completing class-VIII, 10% got married after completing SSC and 1.3% got married after HSC. Most of the family practice alimony said 60% respondents.
If child marriage is organized, 27.9% respondents said they prevent it. 41% said do not prevent, sometimes prevent said 24.3% and others do it like police said 6.8%. Besides community people, UP member-chairmen prevent child marriage said 25.9%. Sometimes prevent said 40.8%, do not prevent said 13.4% and they calculate vote issue said 8.9%. Above all, 54.5% respondents do not know the government hotline numbers that help for preventing child marriage. Praising all the government initiatives, the meeting press some recommendations, e.g. make Union Parishad more effective and accountable to prevent child marriage and constitute committee at village level. Ensure safety and security for girls. Take necessary measures to reopen the schools in a limited scale during this Covid pandemic. Offer girls 80% scholarship at secondary level. Increase scholarship amount. Mass campaign for informing community people the hotline numbers. Stop fake birth registration. Commitment from Kazi and religious leaders so they do not conduct child marriage. In the meeting, UP chairman Abdul Wadud Miah, Md. Siraj Uddin, Md. Jamal Uddin, Ashraful Alam, Abdus Salam Hawlader, Md. Hossain Miah were present, among other.
Please download [Bangla Press] [English Press], Summary Findings of COAST Study on Child Marriage in Bhola [Download]