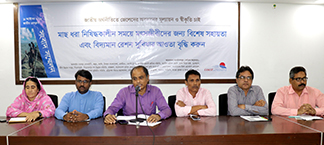 Dhaka, 11 October, 2018. A group of fisher and farmer organization demanded a monthly allowance of 8,000 Tk per month for each fisher family as compensation during the fishing ban period. In a press conference held at the National Press Club today, they also urged proper recognition of fishing community for their contribution to the national economy.
The press conference titled 'Contribution of the Coastal Fishers to the national economy should be recognized: We Demand extended coverage of the VGF support during fishing ban' was organized jointly by 24 organizations under the banner of Bangladesh Fish Workers' Alliance. Sanat Kumar Bhowmik of COAST Trust moderated the event while Md. Mujibul Haque Munir of the same organization presented the keynote paper. Among others Rashida Begum of Coastal Fishers Association, Mizanur Rahman Bahadur of Cox's Bazar Fishing Boat Fish workers' Union, Badrul Alam of Bangladesh Farmer Federation and Mustafa Kamal Akanda of Coastal CSO Alliance also spoke at the occasion.
Md. Mujibul Haque Munir said, about half million people are directly involved with Hilsha fishing while 2-2.5 million people are directly or indirectly involved with this sector. Hilsha contributes 12% of total annual fish catch of Bangladesh and annual production is of about 8.12 billion taka. In an average one fisherman catches Hilsha equivalent to 0.16 million taka. On the other hand one fisherman gets rice of 4.5 taka as ration during Hilsha fishing ban period. While minimum wage of the country is recently set about 8 thousand taka, we demand at least 8 thousand taka allowance should be given to each fisher family during the ban period as they have no other income option during that period. To do that, government will need only about 1.2 billion taka.
Sanat Kumar Bhowmik said, the government has given ID card to fishermen, but 40% of those are given to people who are not involved in fishing. During Hilsha fishing ban period, each fisher family is supposed to get 40 Kgs of rice, but many of them are getting 25-30% less than that. Mizanur Rahman Bahadur Said, there are about 6,000 fisher people live in Cox's bazar sadar area, but only 2,500 are registered. None of them have received any ration or VGF support during the fishing ban yet. Rasheda Begum said, there are many government services for the fisher folks. To monitor those services whether they are being implemented properly or not, a monitoring committee must be in place at Upazila and Union level. Badrul Alam said, due to the influence of the middlemen, fisher people are getting 30-40% less price than their total catch. Mustafa Kamal Akanda said, to identify and solve the problems of the fisher community it is not that much hard as we have fisheries department offices at the upazila level. We must keep in our mind that, fish sector is contributing 3.57% to the national GDP.
Please download related paper [Bangla Press] [English Press] [Position Paper]
Photos
Newspaper: