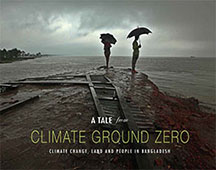 A Coffee Table Book titled "A Tale from Climate Ground Zero" is going to be launched today in Geneva, Switzerland. Mr. Abul Hassan Mahmood Ali MP, the honourable Minister Foreign Affairs of Bangladesh will launch the Book in the conference on Disaster and Climate displacement, jointly organised by the Government of Switzerland, the Government of Norway and the Nansen Initiative, on 1520 hours on 12th Oct being held in Starling Hotel in Geneva.
A photo exhibition of Din M Shibly's photographs will also take place here during 12-13 October at the same hotel.
The book consists of live photographs of the climate affected people and their livelihood in Bangladesh. Renowned Photographer Din M Shibly have been seeing the climate affected people of Bangladesh through his lens since 2003 and witnessed how the people of this area are getting worse situation day by day due to the sea level rise, salinity intrusion and other climate effects.
COAST Trust planned, guided and published this book with the support from the Ministry of Foreign Affairs (MoFA) of the Government of Bangladesh. Hasan Mehedi drafted the main text of the book which is edited by Barkat Ullah Maruf, Wafiur Rahman and Rezaul Karim Chowdhury.
Mr. Sahidul Haque, the Foreign Secretary and Mr Riaz Hamidullah, Director General of MoFA guided the design and overall printing along with Mostafa Kamal Akhanda of COAST. DTP artwork and Design is done by Mr Athir Rahman and it is printed by Line Work.
Please note that, COAST's program component for Advocacy and Campaign, EquityBD has been campaigning at the international level on "Rights and Responsibilities on Climate Forced Migrants" since 2007, UNFCCC CoP in Bali, in cooperation with other international civil society and NGO networks.
Download the pdf version of the Coffee Table Book from here