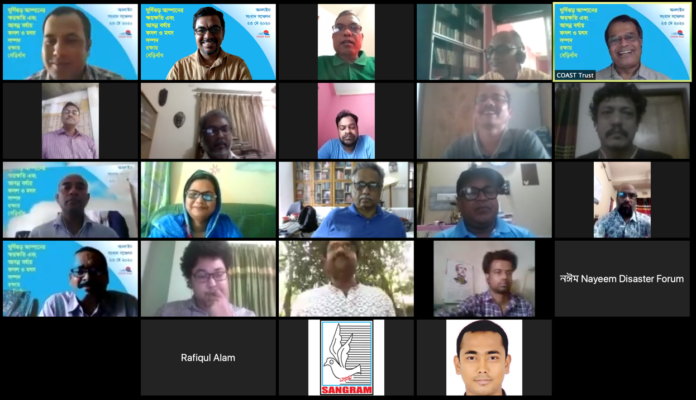 Dhaka, 23rd May 2020. Today 10 coastal NGOs from Satkhira to Cox's Bazar organized an online press conference titled "Cyclone Amphan and emergency construction of embankment to protect next crop and fish resources in coastal area" with the facilitation of COAST, a coastal NGO in Bangladesh. Dr. Ainun Nishat of BRAC University, Nayeem Gowhar Wahra of Disaster Forum, Ziaul Haque Mukta and Prodip K Roy of CSRL, Rafiqul Alam of Dwip Unnayan Sangsta (Hatiya) spoke in the Press conference moderated by Rezaul Karim Chowdhury of COAST Trust. Ashek E Elahi of Progoti (Sathkira), Sheikh Asad of Udayan Banglaesh (Bagerhat), Mr Ziaul Ahsan of PGUS (Pirojpur), Ziauddin Himu of CRUPDA (Barguna), Masum Chowdhury of Sangram (Barguna), SK Liton of Kutubdia Press Club also attended in the Press Conference.
Syed Aminul Haque of COAST gave the keynote presentation that depicted total damage of cyclone Amphan in the coastal area. He presented that Satkhira and Khulna are the worst impacted districts. As cited in the presentation the total damage is: agricultures- 2 lac hectare land, shrimp culture of taka 340 crore, livestock of taka 140 crore, and 150 km embankment. He placed three immediate demands including (1) taka 400 crore to repair embankment to protect next crop in this monsoon, (2) local government should be assigned to do this emergency construction while Water Development Board (WDB) could give technical assistance, and (3) permanent maintenance responsibility of the embankment should be given to the local government.
Mr Ashek Elhai from Sathkira narrated the story of how mass mobilization with the initiatives from local government tried to protect the embankment during cyclone Amphan in his area. Mr Sheikh Asad from Bagerhat said how salty water in Bagerhat hampered livelihood due to drainage problem, and how WDB and local administration repeatedly failed to construct embankment on time as because of their contractor and sub-contractor system. Mr Rafiqul Alam from Haitya who have long cyclone management experience since 70, said that cyclone signal system is still from colonial period which is tailored to protect port instead of protecting people.
Mr Zaiul Haque Mukta from CSRL said that even intervention from Honorable Prime Minister aftermath of cyclone Aila WDB have failed to construct embankment on time due to their management complicacy. He also narrated spontaneous mass mobilization whole over coastal area who are trying best in repairing and constructing embankment in short term basis. Mr Nayeem Gowhar Wahra of Disaster Forum place the example from Charfassion Bhola, that how people and NGO participation of maintaining the embankment. He proposed household based shelter system instead of making cyclone shelters and said 35 household based shelter could be constructed at the cost of one cyclone shelter. Example of this household are available in Kolapara.
Dr Ainun Nishat proposed that metrological department should be shifted to science and technology or to disaster ministry instead of defense. He termed present government approach is mostly "relief approach" in respect of cyclone management which should be in "disaster risk reduction approach". Mr. Rezaul Karim Chowdhury of COAST concluded that, government institution like WDB have to reform and ownership of embankment should be given to the people. He also said, we should not expect foreign fund like previous, we should mobilize our own resources for disaster management.
Please download Related Paper [Bangla Press] [English Press] [Position Paper] [Presentation]
Newslink