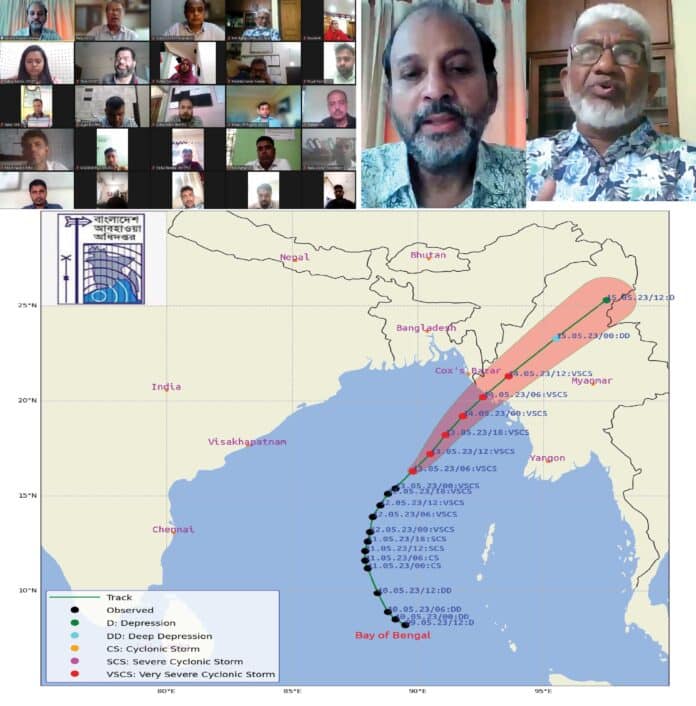 According to the Special Weather Bulletin-14 of Bangladesh Meteorological Department (BMD) on 13 May 2023 at 06h00, it is stated that the cyclone Mocha intensified a very severe cyclone and that may hit Saint Martin Island, Teknaf and Rohingya Camps, Cox's Bazar and it may make landfall on 14 May 2023 (Sunday). The coastal district of Chattogram, Feni, Noakhali, Laxmipur, Chandpur, Bhola and their offshore island and chars will come under great danger signal no. 8 (R) 8 and Cox's Bazar will come under great danger signal no. 10(R) 10.
COAST Preparation for Response:
As the cyclone is very near to hit, COAST Foundation arranged a virtual meeting with all staff on 13 May 2023 at 10h30 with the moderation of the Executive Director of the Foundation. Mr. Gawher Nayeem Wahra (Disaster Foundation) and Mr. Rafiqul Alam (Executive Director, DUS, Hatiya) were present as resource persons.
In his speech, Mr. Gawher Nayeem Wahra said that, the government is well prepared to face the situation with making readiness of all the relevant officials. During this cyclone, the fishermen may take shelter in Indian coast and then we have to advocacy for release them from India. He said that 30 fishermen have been convicted for three-year jail. We should lobby with Indian Government to release them. Just after the cyclone the schools will make ready for education so that not a single day will be loss for the children from education. The dewatering of ponds will be more important so that the coming monsoon will help the pond with sweet water. In the camps, there will be water logging, so special attention would be taken not to allow the children outside from tents and also the landslide will be the severe problem.
Mr. Rafiqul Alam said that the signal system of cyclone should be clearer to the people. He advised to harvest the paddy and fish by today and if not possible then special care to be taken to save them from the cyclone hit. He said that generally, the May cyclone may turn to the north-eastward direction. We are now in great danger signal. So, we should stock the food for lactating children and prepare the First Aid Box and filling with drinking water in water jerri-can. He also said that the children, persons with disabilities, elderly people and women will be given preference to evacuate to the cyclone shelters and the adult male can stay in houses for saving their assets.
The moderator advised the relevant staff of the Foundation to make the ready of all machines of the organization so that just after cyclone ends the dewatering of ponds can be started. He also advised all staff to be alert for facing any of the situations to be caused by the cyclone. No other discussion, the moderator concluded the meeting with a vote of thanks.
Video link
1. আমাদের 'সাসটেইনেবল রেসিডেন্স' নিয়ে কাজ করতে হবে
2. দীর্ঘ সময় ধরে বৃষ্টি হলে ভূমিধসের সৃষ্টি হতে পারে
3. আমাদের খাবার পানি সংরক্ষণ করতে হবে