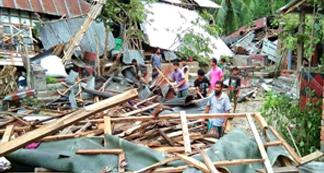 After the hitting of cyclone Fani COAST has started its emergency responses in the affected areas hit by Fani in Digolia village of Bhola Sadar under Bhola District. Here it distributed 100 cooked food packets to 100 families as per the instant instruction of honorable Deputy Commissioner of Bhola when he was visiting area. In this village one woman has died and COAST has given BDT 5,000.00 as instant cash support to her family for her funeral activities.
COAST next steps for responses in its working areas:
1. COAST is maintaining coordination with the respective honorable Deputy Commissioners and local union Chairmen and Members for relief operation on the basis of need. On the other hand 50 skilled staff have been deployed for need assessment of the damages by the organization. Here COAST will avoid the duplication of emergency support.
2. COAST has also decided to provide instant cash support of BDT 5,000.00 for each family in the death case.
3. COAST has opened a control room in its Principal Office, Dhaka where an Assistant Director-Admin (Mo 01711455591) and Director (01711881662) are responsible for coordinating the emergency responses.
Please find
here
the latest situation report.