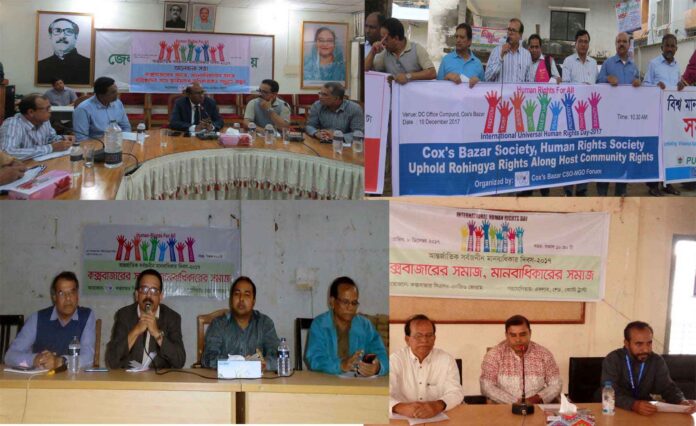 Cox's Bazar CSO-NGO Forum observed Universal Declaration of Human Rights Day 2017 in Cox's Bazar. Civil Society-NGO leaders and social activists were present in the Human Chain and mass gathering. The Human Chain and Mass gathering were organized at District Administration office premises. Mr. Abu Morshed Chowdhury was present as Moderator in the Mass Gathering meeting. Mr. Rezaul Karim Chowdhury, Executive Director, COAST Trust; Mr. Bimal Chandra Dey Sarkar, Executive Director, MUKTI; Mr. Fazlul Qader Chowdhury, Executive Director, Green Cox's Bazar; Journalist Mr. Mohammad Ali Zinnat; New Age representative Mr. Md Nurul Islam; BRAC representative Mr. Ajit Nandi; Mr. Moqbul Ahmed, Assistant Director, COAST Trust were present and spoke in the meeting. To mark the day representatives of MUKTI, COAST Trust, PULSE, NONGOR, YPSA, AKLAB, BRAC, and Radio NAF were present in the meeting. The title of the Meeting was "Society of Cox's Bazar are Human rights resilience Society, Uphold Rohingya Rights along with Host Community Rights"
Mr. Rezaul Karim Chowdhury, Executive Director of COAST Trust said, Mr. Moung Jarni, a Burmese human rights activist, had informed the media that, genocide is a profitable business. Military Janta of Myanmar, China and India will be benefited by the genocide. Many parties have been benefited from the Rohingya influx in Cox's Bazar. He said, one of the Police officer had reported that, 1000 foreign UN/INGO staffs are currently staying in Cox's Bazar. Minimum 300 dollars are being spent for them every day, which means, every day 2 Crore, 46 Lac taka are being spent for 1000 foreigners. He mentioned that, after Nepal Earthquake, government of Nepal had prohibited INGOs to direct operational work. Similarly, after Hioan Cyclone, government of Philippine had promulgated the same decision. So, Political leaders and government of Bangladesh should take similar decision.
Mr. Bimal Chandra Dey Sarkar, Executive Director of MUKTI said, Human Rights are being violated all over the world. Peoples of Cox's Bazar received Rohingya at first; now peoples of Cox's Bazar are being deprived. Now poor people's suffering in Cox's Bazar district has been increasing district day by day. Many of the poor people in Cox's Bazar lost their jobs and they don't have enough food to feed themselves. For that reason, we demanded allocation of food and projects for the host community, he maintained. He said, INGOs hired trained workers of the local NGOs by the enticement of high salary. We have urged to INGOs not to adopt such kind of strategy. Journalist Md Ali Jinnat said, the indiscriminate killing of Rohingya people is not only human Rights violation, it is Genocide. In spite of that, leaders of the world community did not impose pressure on Myanmar government to stop the genocide. Moreover, the local people of Cox's Bazar are being depreciated for the influx of Rohingyas. Journalist Mr Fazlul Qader Chowdhury briefly sketched the history of Rakhain state. He said, our old friends India, China and Russia did not support us; rather opposed the position of Bangladesh. Many oppressed Rohingyas came to Bangladesh when an agreement was signed between Bangladesh and Myanmar. He maintained, what was the meaning of the agreement? He fiercely criticized Aun Sun Suki's role.
After the Human chain in front of Cox's Bazar District Commissioner Office, a short discussion meeting was also held at DC office conference room. The meeting was headed by Mr. ALi Hossain, Deputy Commissioner, Cox's Bazar. In his speech, Mr. Rezaul Karim Chowdhury, Co-Chair of Cox's Bazar CSO-NGO Forum, focused on environmental degradation in Cox's Bazar. Then Deputy Commissioner Mr. Ali Hossain emphasized on the formation of a research working group to do a study on the impact of Rohingya influx into Cox's Bazar district especially Teknaf and Ukhiya Upazila.
Mr. Abu Morshed Chowdhury, Co-Chair of Cox's Bazar CSO-NGO Forum, informed in the meeting that, last two days (8th and 9th December 2017) two discussion meetings were held at Teknaf and Ukhiya Upazila Conference Room respectively. Mr. Md Alamgir Kabir, Woman and Children affairs department of Teknaf Upazila and Mr. Ekramul Siddique, Assistant Commissioner (Land) of Ukhiya chaired the two meetings respectively.
Mr Abu Morshed said, 70% of the total foreign donation had been spent to hire foreign expert, but Bangladeshi experts are globally known for the disaster management. He claimed full transparency and accountability of all INGO and UN agencies to Bangladesh government and Bangladeshi people.
Finally he thanked to all leaders of cxb cso-ngo forum for organizing all events on Universal Human Rights Day observation 2017. Please Download [English Press]
Photos