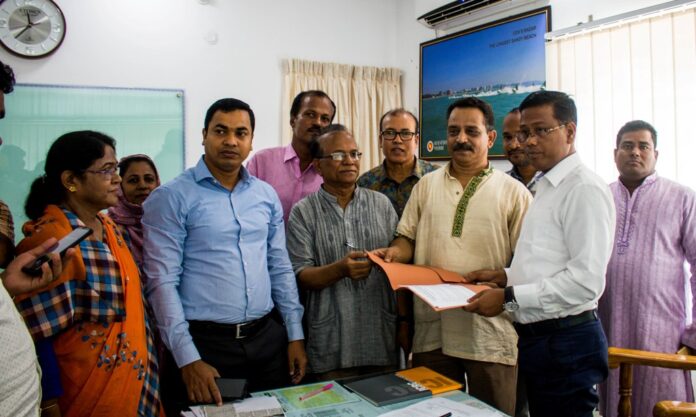 Cox's Bazar CSO NGO Forum (CCNF) called for a gathering in front of the Deputy Commissioner's Office to stand for justice for the Rohingya genocide and atrocities that eventually forced the persecution of a million people to Bangladesh. CCNF later handed over a memorandum to the Prime Minister via the Deputy Commissioner urging the government of Bangladesh to submit their observations to the International Criminal Court (ICC) about Rohingya Persecution by 11 June 2018.
From the event CCNF leaders said, there are enough evidences to accuse the Myanmar Junta for Rohingya Genocide and Atrocities to bring it under the ICC. They also said, all the human being should stand for justice seeing this kind of genocide.
A number of local organisations of Cox's Bazar joined the Human Chain and expressed solidarity with the event. Those include: COAST Trust, YPSA, PHALS, Green Cox's Bazar, Mukti Cox's Bazar, Ganasasthya Kendra, District Coastal Rural Development Council, CODEC, Ananda, RIC, POPY and Cox's Bazar Climate Council.
In the memorandum to the Prime Minister it is mentioned that Bangladesh have the glorious history of establishing justice by bringing the war criminals under International Tribunal. Bangladesh is a nation who have the history of freedom fight in 1971 and that's why it is expected that Bangladesh will condemn Myanmar Junta for the Rohingya Genocide and atrocities.
The Deputy Commissioner of Cox's Bazar Mr. Md Kamal Hossen receives the Memorandum to the Prime Minister from the representative team on behalf of CCNF. Download the memorandum and the citizen call for it signed by the 41 renowned intellectuals of the country.
Photos
Newspaper: