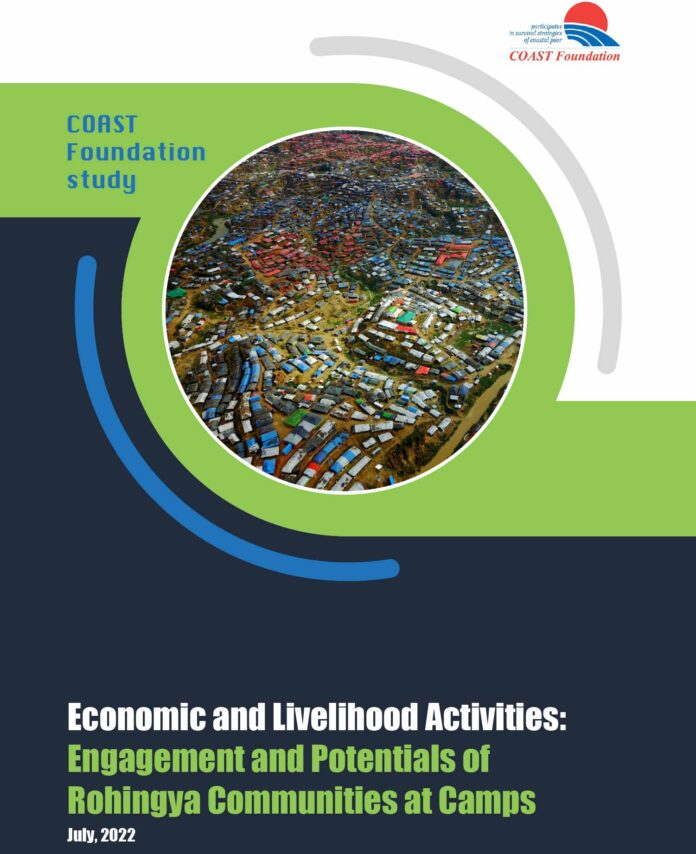 COAST has conducted a study on the economic and livelihood engagement of the Rohingya community. The results of that study revealed that women in camps have restricted opportunities for economic participation. They only have a small amount of market access. Families headed by women find it challenging to lead if they have no other reliable source of income. According to this study, 7% of women are involved in the camps' economic activities, while 57.46% of the total Rohingya population are involved.
The study covered a total of 181 respondents in the seven camps. 73.48% (133 out of 181) of the respondent were male and 26.52% (48 0ut of 181) of the respondents were female. A total of 1151 members were in 181 families. Among them 50.56% (582 out of 1151) members were male and 49.44% (569 out of 1151) were female. The report shows most of the respondents (45.86%) profession was in agriculture when they were in Myanmar.
Most of the (57.46%) Rohingyas are involved in economic activities in camps. Among the respondents, who are involved in economic engagement, of them, 19.48% are involved in vegetable cultivation and 15.19% are involved in grocery stores. 43.09% of the respondents have the opportunity to continue vegetable cultivation and 36.46% of the respondents have the opportunity to continue grocery store. 46.41% of the respondent demanded seeds as their livelihood assistance, 56.35% demanded hen/chicken assistance and 40.33% demanded a Poultry rearing box.
95.58% of the respondent thought, there is a good opportunity to sell the products in camps. Most of the respondents (32.60%) have skills in making Bamboo based materials. At present 47.51% of the respondents need Needle, Yarn, and frames for designing tapestry on clothes. A 51.93% of the total respondents think setting up and managing shops would be a good option in camps to sell their productions.
So, according to the findings of the study, there has a very potential opportunity to engage Forcibly Displaced in Myanmar National (FDMN) in economic recovery and Income Generating Activities (IGA) and initiatives in the camps.