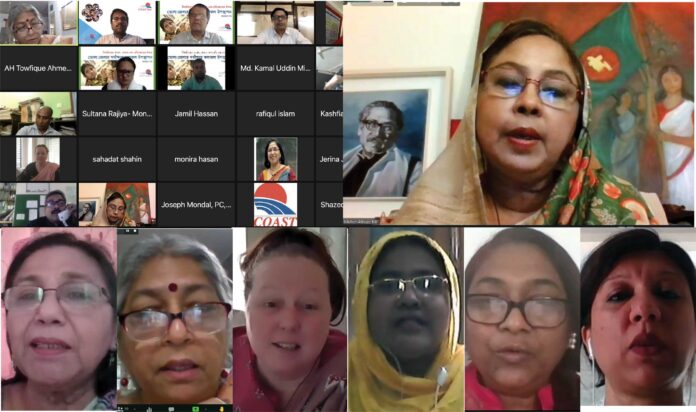 Dhaka, March 27, 2021: Although the rate of child marriage has decreased at the national level due to various initiatives of the government, the rate of child marriage in Bhola district is worrying. The national level child marriage rate for children under the age of 15 is 15.5% but in Bhola it is slightly higher at around 19%. On the other hand, the national rate of child marriage among under-18s is 51.4%, but in Bhola it is much higher, at 80.3%. This information was presented while presenting a research report in a webinar organized by the COAST Foundation today.
Meher Afroz Chumki MP, Chairman of the Parliamentary Standing Committee on the Ministry of Women and Children Affairs, was the Chief Guest at the webinar titled "Causes, Impact and Ways to Prevent Child Marriage" moderated by Rezaul Karim Chowdhury, Executive Director of COAST Foundation. Special guests at the meeting were SM Latif, Director, Child Protection Project, Ministry of Women and Child Affairs, Shaheen Anam, Executive Director, Manusher Jono Foundation (MJF), Shireen Huq, Member, Naripookho, Natalie McCauley, Head of Child Protection, UNICEF Bangladesh, and AH Tawfiq Ahmed, Barisal Division Field office Chief. The research report conducted in four upazilas of Bhola district was presented by Iqbal Uddin, Joint Director, COAST Foundation.
The study notes that 'insecurity' among parents is one of the major causes of child marriage. 41.7% of those surveyed identified insecurity as the main cause of child marriage. Other factors include protection of family honor (41%), lack of awareness (44.9%), and poverty (50.9%). The study found that 67.3% of girls who pass 8th grade get married.
Speaking as the Chief Guest, Meher Afroz Chumki, Chairman, Parliamentary Standing Committee on the Ministry of Women and Children Affairs, said that despite many initiatives of the government, there is still a problem of attitude towards girls in the society. To solve this problem, girls need to be made financially self-sufficient, they need to be educated. Local elected representatives including local UP members-chairmen should play an active role in preventing child marriage.
Shireen Huq said that not only punishment, but also cultural change and social movement are needed to prevent child marriage. Integrated sex education can play an important role in preventing child marriage. Shaheen Anam said that in order to prevent child marriage and its negative impact, it is very important to bring back the girls who have dropped out of school, we need to ensure reproductive health services for those who are already married and we need make the concerned people including the Upazila based child marriage prevention committee accountable.
SM Latif said a study found that 33% of parents find child marriage acceptable. This situation must change. The reasons for child marriage vary widely in different areas, so it requires division based programs. Natalie McCauley said social volunteers need to be proactive in preventing child marriage. Initiatives need to be taken to change people's behavior.
AH Tawfiq Ahmed said a special focus is needed on track the education of girls at the school level. Those who drop out after eighth grade, why they drop out, where they go – if this issue can be monitored, child marriage can be reduced.
Rezaul Karim Chowdhury said that urgent steps need to be taken to stop child marriage we need to activate local administration and union councils, form village committees in villages, increase security, increase stipend and amount of money, stop fake birth registration, without registered Kazi. Campaigning to make marriage illegal. Among others, Monpura UP member Sultana Razia, Lalmohan UP member Md. Kamal Uddin Mizhi, Aklima Begum, Vice Chairman, Char Fashion, Monira Hasan, UNICEF Child Protection Specialist, Jamil Hasan, UNICEF, Rafiqul Islam of FNB and Kashfia Firoz of Plan International Bangladesh also spoke at the occasion.
Please download related paper [Bangla Press] [English Press] [Presentation] Summary Findings of COAST Study on Child Marriage in Bhola [English] [Bangla]
News link