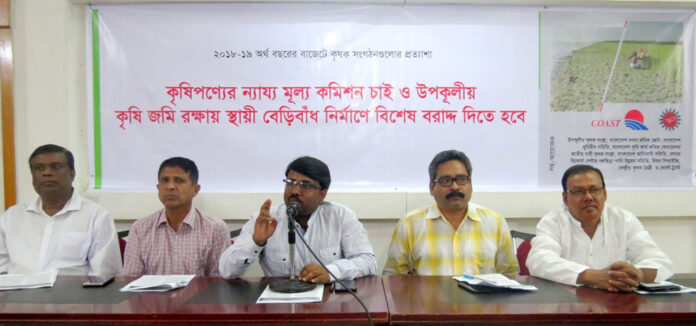 Dhaka, 24 May 2018.Today in a press conference 12 local and national farmers' organization strongly recommended special allocation in the upcoming budget to build permanent embankment to save coastal agricultural land. From a press conference organized today in the National Press Club, they also demanded National price commission to ensure just price of their agricultural products. The press conference titled 'We Demand Fair Price Commission for Agriculture Production: Permanent Embankment is Must to Save Coastal Agricultural Land' was jointly organized by Coastal Farmers' Association, Bangladesh Fish Workers Alliance, Bangladesh Agricultural Farm Labour Federation, National Women Farmers Association, Bangladesh Adibashi Samity, Haor Farmers and Fishers Alliance, Gram Labour Resource Centre, Nolchira Pani Unnayan Somity, Dighon CIG, Kendriyo Krishak Moitree, Bangladesh Farmers' Forum and COAST Trust.
The press conference was moderated by Mustafa Kamal Akand of COAST Trust and Md. Mujibul Haque Munir, Secretariat Coordinator of Bangladesh Farmers Forum presented the key positions of the group. Among others Abdul Majid, secretary of Bangladesh Agricultural Farm Labour Federation, Md. Shahabuddin, Secereaty of Coastal Farmers Association, Samsuzzaman Khokon, Chief of the Gram Unnayan Sanagstha also spoke at the occasion.
Md. Mujibul Haque Munir said, 46% of our labour resource are engaged with the agriculture sector, our food security depends on this sector, so at least 20% of total national budget should be allocated for agriculture sector. But even though the size of the national budget is increasing every year, budget for agriculture sector is not increasing proportionately. The national budget of 2017-18 was increased about 30% compared to the budget of 2016-17, but allocation for agriculture was reduced by 0.81%. In the budget of fiscal year 2016-17, allocation for agriculture was 4.01% of the total budget, but in 2017-18 it was reduced to 3.4%. In the Annual Development Plan allocation for the Ministry of Agriculture was only 1.2% of total ADP! One big change in this trend must take place to save out farmers and to save our agriculture.
Abdul Majid said, farmers must control the seed, they must have the seed sovereignty. We have to reduce our dependency on multinational seed companies. We can easily do to that we can make Bangladesh seed sufficient by ensuring capacity building if the Bangladesh Agricultural Development Centre (BADC). We demand special allocation for this public institution.
Md. Shahabuddin said, farmers of Bhola had to spent about 600 taka to produce each 100 Kgs of rice, but the price was just 400 to 450! ensure just price of the farmers' product, we need to reform the current paddy collection system of the government. Farmers have to sell their rice as soon as they get it from the field, government must start the collection considering that time. But, the process usually starts at a time when farmers already sell their product. Thus, the middlemen are getting the benefits of the government process. We demand national price commission which will supervise the overall process and will ensure just price.
Saiduzzaman Khokon said, in many cases agriculture subsidy is going to wrong hands, who are not involved with agriculture. This has to be changed. In all budget and plan of agriculture participation of farmers must be ensured.
Mustafa Kamal Akanda said, each year we are losing 1% of our agricultural land, about 1 million people are becoming homeless due to river erosion. We demand social allocation to build permanent embankment to save the coastal agricultural land.
The organizers also demanded special initiatives to enhance the jute production, to restrict use of GMO seeds, and control use of agricultural land for other purposes.
Please download related paper [Bangla Press] [English Press] [Position Paper]
Photos
Newspaper: