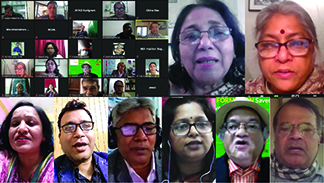 Dhaka, 9th December 2020. Today BDCSOProcess, a forum of 700 civil society and non-government organizations in Bangladesh, along with COAST Trust organized a virtual seminar titled "Better Health: Stand Up for Human Rights", on the eve of Rokeya Day (9th December) and as and Human Rights Day (10th December). Speakers urged that health should not only be recognized as a basic need, it must be considered as a fundamental right in our constitution. Speakers also raised concerns on our national achievements on the eve of 50 years of independence, whether we have achieved our principles of liberation war, democracy, socialism, secularism and nationalism.
The virtual seminar was chaired by Ms. Saheen Anam of MJF (Manusher Jonno Foundation), Ms. Shireen P Huq of Naripokkho attended as the Special Guest, and was moderated by Mr. Rezaul Karim Chowdhury of BDCSOProcess. Other key speakers were Mr. Afzal Hossain of RULFAO, Rajshahi, Mr. AKM Jashim Uddin of ADAB, Ms. Merina Lovely, Channel I Representative in Rangpur, Mr. Jahirul Islam, The Business Standard Barisal Bureau, Ms Basanti Saha of Dropon, Comilla, AHM Bazlur Rahman of BNNNRC, Ms. Sarati Shaha of SEED, Rangpur, Mr. Akbar Hossain of RPF, Rangpur, Mr. Anwar Zahid of ICDA, Barisal and Mr. Mostafa Kamal Akanda COAST.
Ms. Shireen Pervin Haq of Naripokkho said, the courage has shown by Begum Rokeya hundred years ago and our nation have to show the courage again. Profit mongering and corruption in health along with all other sectors enhanced during this COVID period undermining human right both in public and private sector. She urged all to raise voice to establish health as the fundamental right in our constitution.
Ms. Saheen Anam said, while as a nation we fought for liberation with four principles, then how we are showing power to grab land and rights of indigenous people? It is shame.
Ms. Bashanti Shaha said, freedom of expression is our basic right, digital security act is a blatant obstacle and great fear in this regard.
Mr. AKM Jashim Uddin said that, as a nation while we have respected basic protection to Rohingyas, amidst multiple of our crisis, international community hardly did anything for their repatriation. Now a days these international community are blaming our government and misinterpreting our generosity.
Mr. Jahirul Islam Jewel, raise the issue of fisher people of islands and how government policy is creating more poverty for them. He and Ms. Merina Lovely described the pity situation of Barisal and Rangpur divisional hospital. She described how 1 million became newly jobless in Rangpur during COVID period.
Mr. Rezaul Karim Chowdhury said that, NGOs as civil society should not only limited in service delivery, they have to raise voice on civil rights and demand mediation, need to create space and continue dialogue in all level for transformation, but need to change own selves first.
Download Press Release: [Bangla] [English]
Newspaper: