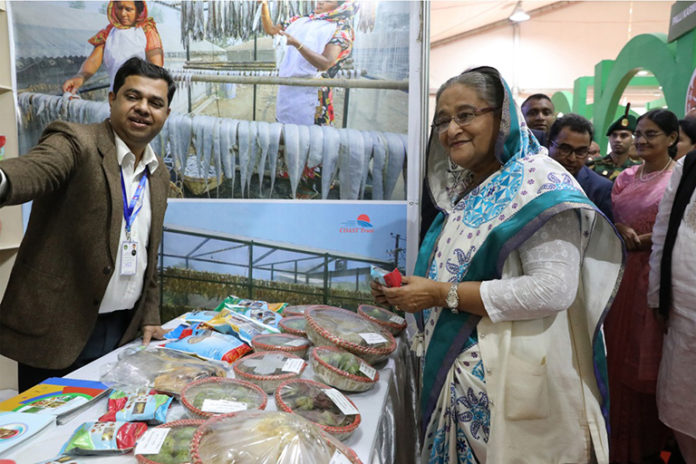 Dhaka, 16 November, 2019. Hounourable Prime Minister of Bangladesh, Sheikh Hasina assured support to COAST endeavor to promote seaweeds and pesticides free dry fish production in Cox's Bazar. She gave this assurance while visiting COAST stall in the development fair organized by Palli Karma Sahayak Foundation (PKSF) on 14th November. Prime Minister passed about 8 minutes in COAST stall showing her interest in different activities of COAST and she praised COAST endeavor to promote seaweeds cultivation in Cox's Bazar especially. Ex Agriculture Minister Matia Chowdhury also showed interest in seaweeds cultivation. PKSF Chairman Dr. Qazi Kholiquzzaman Ahmad and Managing Director Mohammad Moinuddin Abdullah were also present at that moment. COAST Deputy Director Tarik Sayed Harun informed the Prime Minister about COAST's development activities.
PKSF has arranged the seven-day fair to expand the market of products made by marginalized people. Prime Minister has inaugurated "Development Fair 2019," at Bangabandhu International Conference Center (BICC) in Dhaka. A total of 130 organizations, including associate bodies of PKSF from rural areas, different public and private organizations, research and information technology (IT) institutions and service-oriented organizations have set up 190 stalls in the fair.
It is to be mentioned that, COAST is motivating farmers and fishers to cultivate seaweeds and pesticides free dry fish in Cox's Bazar. Along with technical and financial support, COAST is also providing support to establish market linkage. Hazardous pesticides are in rampant use in preserving sea fish in dried. Wholesalers are supplying chemical-coated dried fish to consumers and its byproducts for poultry feeds throughout the country, in violation of the food safety rules. COAST has so far involved about 300 producers who are producing dry fish without using any pesticides. All the producers have been received theoretical and practical training on different eco-friendly methods of dry fish production. They are now producing dry fish with some techniques like using nets, using turmeric water, fish dryer, etc. COAST produced dry fishes have been certified by BCSIR.
One the other hand, seaweeds can play a vital role in meeting additional demand for food and nutrition for the increasing population of Bangladesh. The coastal area of Bangladesh has vast potentials of seaweeds cultivation and it can be cultivated integrally with shrimp cultivation. Seaweeds can also play a vital role in preserving sea diversity and in fighting global warming and sea pollution. Seaweeds are full of Iron, Iodine, different mineral salts and carotene and it can provide additional nutrition to the elderly and children. Seaweeds can reduce the risk of heart diseases, high blood pressure, and diabetics. COAST Trust is trying to promote seaweeds with the support of PKSF. COAST is promoting seaweeds cultivation in Saint Martin, Teknaf and Ukhiya Upazilas in Cox's Bazar district with 180 cultivators. Presently 135 cultivators are cultivating seaweeds in scientific methods and COAST trust is also establishing market linkages.
Please find press release [Bangla] [English]
Photos
Newspaper: